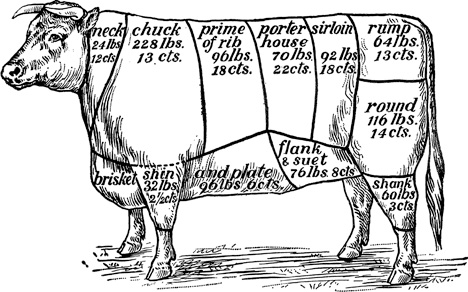 I'm going to start posting my epicurean exploits here, both as a way to remember the good and the bad dining experiences I have as well as to serve as a guide for others who enjoy splurging occasionally and going to a great meal. Most of the restaurants will be from LA, often thought of as having fewer quality restaurants than say New York, Chicago, San Francisco, or even Vegas. But in my experience, there are many amazing restaurants here in the southern part of the west coast. You'll no doubt see a bunch of the restaurants I go to reviewed by my food nemesis Jonathan Gold of the LA Weekly (more on that in another post), but here goes.
This post is dedicated to one of the restaurants in LA with the biggest buzz at the moment. And given the frequency in which restaurants open and close here, it thrills me that it's doing so well. Animal on Fairfax has to be one of my favorite restaurants right now. If for no other reason than I couldn't go a day in my life without eating some form of meat. As you can probably infer from the name, Animal does one thing and does it well.
After eating here for the first time on my birthday last year, it has been at the top of my list of restaurants to frequent, and for good reason. The first night we came, the menu offered quite a few things that can clog your arteries in only the best way possible. We ended up going with the 109 for two. Ever since, we've gone back eagerly hoping for it to be on the menu. The 109 is butcher-speak for the ribeye, and the one offered by Animal is a 2 Lb. bone-in "tomahawk" served with a foie gras butter sauce and mashed potatoes. Stupidly impressive, this cut of meat.
So having reservations last Sunday had us hoping that it would be on the menu. It wasn't. So looking at the menu, the girlfriend and I decided on the Foie Gras with maple bacon gravy as well as roasted Marrow Bones with a parsley salad as appetizers. Susan ordered the Flat Iron Steak, and I went with the Duck Breast. Before our server left, we talked about how great the restaurant is and how we come back often. I casually mentioned that one of our favorite dishes is the 109 and that we're just waiting for it to be on the menu when we come in — the waitress agrees that it's a great dish, but also mentions that not a lot of people actually order it, despite being very interested in it as a concept.
As we're waiting for our appetizers, she comes back hurriedly and mentions that they are planning on putting the 109 on the menu for Monday and that Vinny (one of the two chefs) offered to make it for us since they have them in the back and that they would just have to order another one for Monday's service. Forgetting that we'd already ordered 10,000 calories in appetizer form, we say that it would be wonderful, assuming it wasn't too much trouble. It wasn't.
There are already a thousand reviews on the food at Animal, so I won't go into detail about something that can easily be found elsewhere, but I will say that it was one of the nicest dining experiences I've had, especially being able to go back to kitchen and thank the chefs personally for satisfying our cravings for giant cuts of steak. Note to chefs and restaurants: this is how you keep customers. Granted, you do have to worry about losing your ass, but when all is said and done, it's all about the people.
Animal
435 N. Fairfax Ave.
Los Angeles, CA 90048 (map)
(323) 782-9225
www.animalrestaurant.com
Open 7 days, Friday & Saturday til 2am